Laser Hair Removal in Kansas City by Tina Rodriguez, CCE, CME, CPCP
The removal of unwanted hair has traditionally been achieved with techniques such as shaving, waxing, tweezing, the use of depilatory creams and lotions or electrolysis. Of these, the only technique that provides a long-lasting solution is electrolysis. However, because electrolysis is performed on one hair follicle at a time, it can often prove to be a time-consuming process.
Electrolysis vs. Laser Hair Removal
Light-based (Laser) solutions were first introduced in the US in 1997, with the promise of long-lasting hair removal achieved in a much more rapid manner than electrolysis. Numerous hair follicles can be treated simultaneously, allowing for rapid coverage of large areas.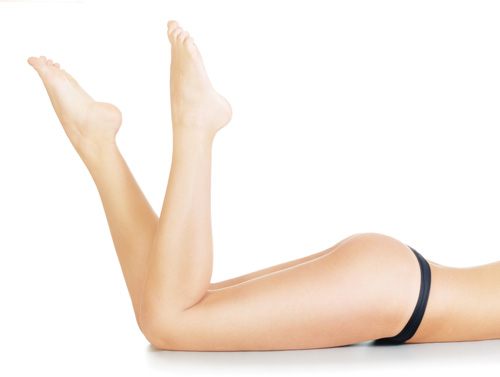 Laser Hair Removal - How does it work?
The laser emits a gentle beam of light that passes through the skin to the hair follicle, where it is absorbed by the melanin of the hair. The laser energy is transformed into heat, which destroys the hair follicle, leaving the surrounding skin unaffected. The skin is further protected during treatment by the cooling of the upper layers, which also provides patients with increased comfort. This helps to protect the skin, while effectively treating the unwanted hair.
Hair grows in cycles and is best eliminated during its growth cycle. Subsequent treatments of the unwanted hair are necessary as recommended by your specialist.
What does it feel like?
You may feel a slight tingling sensation like a rubber band snap, but most people tolerate the procedure well. Some areas are more sensitive than others, so you may elect to have a topical anesthetic prior to the treatment.
What to expect?
There are possible side effects, which are usually minimal. Most patients return to their normal routine immediately.
What does it cost?
The cost of laser hair removal varies based on the area being treated and how many treatments are required.
Tina Rodriguez, CCE, CME, has been practicing permanent hair removal in the Kansas City area since 1990 and was one of the first to work with light-based hair removal solutions when they were introduced. Tina's combina­tion of skills is what sets her apart. By combining both methods of hair removal – Electrology and Laser – Tina is able to achieve unmatched results.
Kansas City's #1 Choice for Laser Hair Removal
Contact Tina Rodriguez today and schedule your free laser hair removal consultation.
Call Tina today at 816-942-3722
You may also click here to request more information.
---
Laser Hair Removal by Tina Rodriguez proudly services the entire Kansas City metropolitan area, including: Olathe, Overland Park, Leawood, Lenexa, Shawnee, Mission, Merriam, Prairie Village, Independence, Blue Springs, Lee's Summit, Liberty and surrounding cities.